The cannabis industry is a growing field throughout North America, being fully legalized in Canada since 2018, and is slowly but surely making its way across the United States.
The stigma attached to the industry is all but removed, with many people realizing the vast benefits of consuming cannabis. Nevertheless, if you're a novice cannabis entrepreneur, there's a good chance you don't know how to market your dispensary.
Marketing is a complicated, ever-evolving area of expertise that many business owners don't understand the importance of. Regardless of your knowledge in the field, down below will look at marketing your dispensary, why it's important, what it accomplishes, and much more.
Be sure to read on if you hope to get the most out of your dispensary marketing and some helpful tips related to the subject.
Why is Marketing Your Dispensary Important?
Marketing as a whole isn't only applicable to dispensaries and the cannabis industries but any business effort. It's the most effective way to attract new customers and interact with the audience related to the business.
The process involves utilizing search engines, social media, advertising, and many other marketing tactics.
Not going with modern marketing techniques is a sure-fire way to mitigate the potential of your dispensary significantly. Dispensaries have a challenging enough time with the public persona of the business.
Getting the right marketing tools in hand is a great way to eliminate those issues and prosper the business.
What Does Marketing Accomplish?
Marketing as a whole is the act of promoting and selling products for a specific business endeavor. The subject has a broad scope, from Instagram influencers trying to grow their accounts to massive corporations like Apple or Nike.
Although there are significant differences between smaller business endeavors and big corporations, the marketing techniques are more or less the same.
Good marketing causes the general public to be interested and feel good about a particular business. Lousy marketing does the complete opposite where people have no interest or have a distaste for the business.
Thus, it becomes essential for businesses, mainly cannabis dispensaries, to know how to market the right way.
How to Market Your Dispensary
Knowing how to market your cannabis dispensary may seem overwhelming at first. Still, once the steps are done, it's effective reasonably early on in the process. The key-word is to follow the steps correctly.
Jumping ahead or not making these recommendations correctly may end up causing your dispensary more harm than good. Nevertheless, let's take a look at how to market your cannabis dispensary.
Determine Your Target Audience
The first and most crucial step in marketing is to determine your target audience. No matter how broad a specific business venture may seem, every business has a target audience.
For example, a toy company's target audience is kids and their parents to buy the toys. In another example, a hockey stick company is targeted toward hockey fans and players.
Now, when concerning cannabis dispensaries, there are two primary target audiences depending on the niche of the dispensary. If a dispensary is strictly meant for medical uses, the target audience would be people who frequent the doctor more and get a prescription for cannabis. This would most likely mean older generations.
On the other hand, if a dispensary is open for recreational purposes, the target audience would be cannabis users in the specific city the dispensary is in.
You'd have to look up the analytics of cannabis users in your city to see their age and backgrounds, so you know who you're trying to entice into your dispensary.
Look to See What Competitors Are Doing Right and Wrong
Besides knowing your customer base, it's equally important to look at competitors. If you live in a country or state where cannabis is fully legalized, then there is more than likely a slew of dispensaries in your area alone. Take a look at the dispensaries and their marketing to see how they're growing an audience.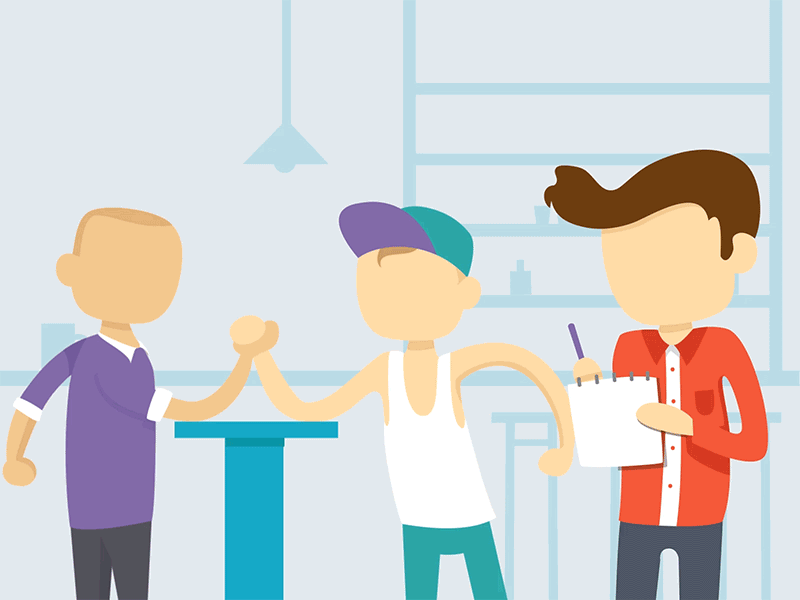 Also, look at dispensaries that aren't doing as well to see what they're doing wrong. Make a thorough note list while analyzing these businesses to make sure you have everything jotted down. It's also beneficial to make a separate list of what you'd do differently for these businesses to make them better.
Create a Website
Having a website is arguably the most crucial aspect of running a successful business and marketing campaign. Without a website, your target audience won't have a central hub to go to when discussing or buying products from your business. A business can't be run in the modern era without a website.
Thankfully, the process of having a website has never been more prevalent, thanks to the availability of website builders, eCommerce platforms, and WordPress.
There are benefits to each of these routes, which depend on your budget, goals, and business size. Nevertheless, let's take a look at how you can get the most of your site for your dispensary.
Have Great Service Pages and Content
Service pages and content are the two most fundamental parts of a website. Although the aesthetic and theme of your site are essential for the look of your business, none of it matters if the content isn't good.
As for a service page, a FAQ and service page can entice visitors interested in the field of cannabis. Most first-time visitors on a website are more likely to go to a website's service page than the storefront.
First-time visitors want to see what the business has to offer and what they're about. Service pages including an about section and FAQ should be clear and have easy-to-follow factual information. It should keep readers engaged and interested in the business.
Besides service pages, content is equally as crucial for the longevity of the site. Content can more or less be a blog, business updates, and information related to products. Content is what keeps the site active and shows people the business is open.
Do Keyword Research
As great as it is to be consistent with content for your dispensary's site, none of that matters if it's not keyword optimized.
Keyword research requires users to identify search terms that people type into search engines when interested in a particular topic. For example, if you hope to open a dispensary in Edmonton, a common keyword might be Edmonton cannabis dispensary.
With that knowledge, you can write an article such as "The Best Edmonton Cannabis Dispensary Every Cannabis User Should Know" or something along those lines.
Obviously, keyword research is much more complicated than just finding a single keyword and inserting once. Thankfully, there are plenty of online tools that can show what keywords are trending and what is helpful for your site.
Have a Marketing Plan
The website process is an integral part of how to market your cannabis dispensary, so make sure you pay attention the most to that aspect.
Regardless, a marketing plan is exceptionally vital for laying down the steps involved with growing your business. Going into the industry without such a plan is a waste of time.

You may find some success just by way of luck, but a marketing plan helps outline the steps needed to grow the business. A marketing plan should outline goals, potential problems and solutions, characteristics of your business, target audience, content ideas, social media, and much more.
Utilize Social Media
Once your site is launched and fully running, the next step tends to involve social media. Usually, it's best to have all of your social media pages created early on in the process. Still, after the site is up and running, it's incredibly beneficial to use social media to get users to your site.
Instagram, Twitter, TikTok, and Facebook are the four most popular options in the social media world. All of these platforms should be utilized with professional content, images, and headings.
There are plenty of social media best practices guides available to showcase how you can get the most out of social media.
How to Market Your Dispensary on Google
Now that the steps of marketing your dispensary have mainly been covered, a crucial area to highlight next is the process of how to market your dispensary on Google. Although there are other search engines such as Bing or Yahoo, Google dominates the world wide web.
Knowing the finite details of marketing your dispensary on Google is a sure-fire way to get the most out of your business. It's a crucial point in the marketing process that shouldn't be overlooked.
If your site doesn't rank well with Google, it'll be challenging to see any sort of success. Here are a few key points to consider:
Create a Google My Business Account
A Google my business account is an entirely free service from Google that allows businesses to promote their business on Google Search and Maps.
The tool allows businesses to connect with customers, see customer interactions, and post updates. It's reasonably simple to sign-up, and since it's free, it's essential for dispensaries to sign-up.
All you have to do is create a Google My Business account. Be sure to create an account using the Google account that's connected to your dispensary.
All you have to do is search your business, and select it. If your dispensary isn't showing, don't worry. You can create a listing to claim. Just make sure you follow the steps closely, and you can verify it using phone or mail.
Create an Email Marketing Campaign
The steps tied to the notion of how to market your dispensary, especially on Google, can be benefitted from an email marketing campaign.
A mailing list is a way for people to type signup for your mailing list via email. There are plenty of mailing list options to consider, such MailChimp, Constant Contact, or Google Groups.
Any of these options should work out well. Having a mailing list will build the audience to your site, causing Google to trust your site more. It's simple, the more traffic your site has, the more likely it is for Google to rank your site.
Look at Google Analytics
Google Analytics is a completely free tool from Google that reports and shows website traffic. Knowing your website traffic can help determine if you're marketing to the right audience and how your site is doing traffic-wise.
The cannabis industry is very much driven by having a consistent audience base and people interested in the field. Marketing to the wrong group can significantly hinder the success of your dispensary.
Google Analytics is a way to know if what you're doing is correct and anything you should do differently.
Maintain Blog on Site
Besides using tools offered directly from Google, there is an equally important part of maintaining your site's blog. A blog is what essentially drives the traffic to your site.
Not being consistent blog-wise will significantly mitigate the ranking and overall success of your dispensary.
Thankfully, there are plenty of options to hire content writers for your site if you don't have enough time to write the content yourself.
Whether you're a strong writer or not, there are plenty of professionals who will help you throughout the process. All that matters is your blog is consistent with great content.
Fully Optimize Your Site and Understand SEO
Besides having a running blog for your site, it's equally valuable to fully optimize your site with SEO in mind. SEO, also known as Search Engine Optimization, improves website traffic to a website from search engines.
As discussed earlier, SEO primarily pertains to keywords. Understanding SEO and getting an SEO audit report can show what you can do better to optimize your site.
Book a Discovery Call with Clientverge.com
Now that you know the steps involved with how to market your dispensary, consider booking a discovery call with us or call Client Verge.
Client Verge is a forward-thinking digital transformation provider that is wholly committed to unlocking the potential of your business online.
Our services include SEO, advertising, website development, consulting, social media management, content writing, and more.